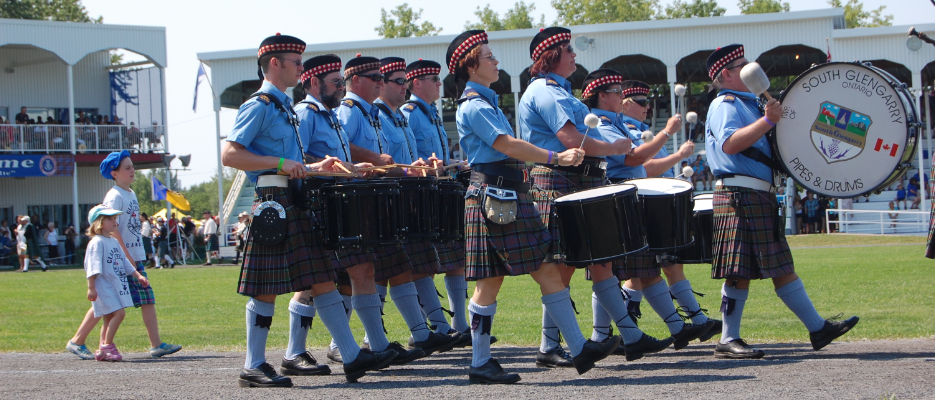 Garbage Collection
Garbage is collected weekly in South Glengarry.
Effective January 3, 2022 the Township will be implementing a phased in bag limit approach to divert waste from the landfill.
Bag limits restrict the number of bags of garbage a resident can dispose of per collection.
Neatly piled bale wrap is exempt for the bag limit.
Any additional bag set out to the curb will require a bag tag that can be purchased online or at the Municipal Office.
Where you live will determine what day of the week your garbage is collected. Garbage is collected
Monday - Thursday.
Bag Limit Schedule

| Date | Bag Limit |
| --- | --- |
| January 3, 2022 | 4 bag limit OR 2 containers * |
| May 30th, 2022 ( extended to June 6th, in order to provide residents with the opportunity to leave out additional bags for large item pick up week) | 3 bag limit OR 1 bag + 1 container* |
| November 28, 2022 | 2 bag limit OR 1 container* |
* Containers (can or bin) must not be bigger than 432 litres (95 gallons).
Garbage Collection Rules:
Your waste must be at the curb after 7 p.m. the day before your collection, or before 7 a.m. the day of collection.
If you want to set out more than the bag limit, you'll need a bag tag for each extra bag.
If you need an exemption from bag limits for medical reasons, send us an email.
Diapers are exempt from the bag limit - details below.
Containers must not be bigger than 432 litres (95 gallons).
Bag must be capable of carrying 22 kilograms (50 pounds) of contents without tearing.
Bag must not be bigger than 106 centimetres by 120 centimetres. Small grocery bags are not accepted: put them in a garbage bag.
Note: Please ensure that all garbage set out for collection are in the proper bags or containers outlined above. All improperly bagged garbage will be uncollected; including garbage above the bag limit without a tag, containers that are over the weight limit, and over filled containers.
Purchase Bag Tags:
Bag Tags are available for purchase at the Township office located at 6 Oak Street, Lancaster ON. We understand not everyone can come into the office during regular business hours, in that case we can mail your pre-paid bag tags to you for an additional fee of $1.50 ( cost of postage ). In order to mail your tags we require your information. Please complete the form below and make your payment via our online payment option and choose Miscellaneous Payment - don't forget the additional $1.50 for postage.
Help us keep the collection crew safe:
Bags and containers of trash must not weigh more than 50 pounds or 22 kilograms each.
Please do not tie the lid to your garbage can.
Please ensure your container or bags are accessible to our collection drivers. Containers must be placed at the curb without any obstructions (including snowbanks).
Please ensure any extra bags include a tag that is visible to the collection crew.
August 2021 to December 2022 Collections Calendar
NOTE: Please note that the current Collections Calendar indicates bi-weekly recycling however as of December 29th all households can now take advantage of single stream weekly recycling.
Bag Tags: Where to buy and how to use
When you have more bags than the permitted limit, you can buy tags. Bag tags, will allow residents to set out more bags than the limit, are sold in sheets of 5 for $10 or 10 for $20.00. Tags can be purchased at the Township office located at 6 Oak St., Lancaster and online.
Tags should be attached to the top of the bag in a visible manner and not the container. Tags should not be cut or altered. They should be securely attached to the bag(s) so that they don't blow away and cannot be removed.
Buy a Recycling Container
Large square recycling bins without lids can be purchased for $10.00 including tax at:
Township Office (6 Oak St., Lancaster) Monday to Friday, 8:30 a.m. to 4 p.m.
Prices are at cost - the Township of South Glengarry sells the bins for the price they were purchased.
Diaper Exemption
Diapers are exempt from the bag limit. Here's how it works:
Residents should set out diapers in clear plastic bags (not blue recycling bags).
These bags will not count towards the bag limit.
The bags should only contain diapers – no other waste is accepted.
Residents do not need to apply for this exemption – everyone is eligible.
Authorized Exemption
Residents who need an exemption should contact the waste management division for a an application form. The request will be reviewed by administration. Once complete, the applicant will be contacted by staff to make arrangements for bag tags.
The form is only for those who cannot meet the bag limit. To complete the online form, please click here

Diversion (or things you can't throw in the trash)
Some items aren't accepted for collection at the curb. That's because they need to be sorted, or diverted, from the landfill. You can bring them directly to the landfill sites, where they can be dropped off at specific sorting locations.
Large items, wood, tires, appliances, mattresses, and construction waste have to be brought directly to the landfill.
Branches, leaves, and yard waste are collected seasonally.
Electronics must be brought to the landfill site.
Household hazardous waste and electronic waste can be brought to the Cornwall Landfill (located at 2590 Cornwall Centre Road) hazardous waste depot is open four times a month, except in winter: check out the schedule.
Household hazardous waste is not collected curbside it must be taken to the depot located at 2590 Cornwall Centre road.
Proof of South Glengarry residence is required.
Winter Waste Collection
Winter poses many challenges – especially when it comes to waste collection. Please take note of these tips to ensure your waste is not left behind.
When:
Waste must be set out by 7 a.m.
If it snows overnight, be sure to pull your waste out of the snow before 7 a.m.
If more than 5 centimetres of snow is expected, please wait until morning to shovel out a spot and set out your waste.
Where:
Place bins and bags in your shoveled driveway
Waste should never be placed on the sidewalk, as it creates a hazard for pedestrians and snow plow operators.
Waste should never be placed on the road, as it creates a hazard for drivers and snow plow operators.
Waste will be left behind if it is placed on a snowbank, is buried in the snow, or is frozen into the bin.
Everyone deserves a safe work environment. Waste rules are in place to ensure the health and safety of waste collection staff. When waste is left behind, it is often because it is unsafe for the contractor to collect.