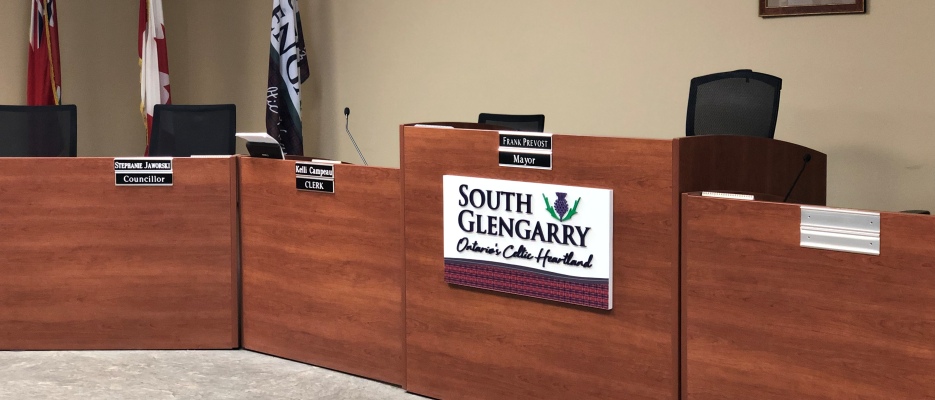 Connectivity Committee - Call for Members
The Council of the Township of South Glengarry is seeking two (2) community members to sit on the Township's Connectivity Committee. The purpose of the Committee is to develop a work plan to encourage high speed internet and natural gas opportunities for underserviced locations in South Glegarry.
Interested applicants are invited to submit an application form to the Clerk by 4:00 pm on Friday, August 30, 2019.
Each term of Council individuals are appointed by Council to sit on various committees, boards, commissions and appointed positions. Below is a list of the appointments for the 2019-2022 term of Council.
Statutory Bodies
Fence Viewers
Brian Belanger
Blain McMath
Steven Smart
Bernard St. Denis
Livestock Valuer
Committee of Adjustment/Property Standards Committee
Frank Prevost
Lyle Warden
Stephanie Jaworski
Martin Lang
Sam McDonell
Community Improvement Plan Advisory Committee
Linda Allison
Trevor Bougie
Ron Brennan
Barbara Menard
Lyle Warden
Sam McDonell
Accessibility Advisory Committee of SDG
Standing Committees
Heritage Advisory Committee
Penny Cavell
Ian MacDonald
Allan Macdonell
Shannon McDonell
Stephanie Jaworski
Agricultural Resource Committee
Duncan Ferguson
David Grant
Scott Kinloch
Ian MacDonald
Rob McDonald
Jerome MacDonell
Tony Vogel
Martin Lang
Sam McDonell
Landfill Advisory Committee
Michael Madden
Angela Parker
Michael Schuler
Stephanie Jaworski
Joint Committees, Commissions and Boards
Glengarry Nor'Westers and Loyalist Museum
Raisin Region Conservation Authority
Frank Prevost
Martin Lang
Cornwall Regional Airport Commission
Frank Prevost
Lyle Warden
Martin Lang
Glengarry County Archives
John Hope
Bruce Munro
Lyle Warden
Sam McDonell