The Township of South Glengarry's Recreation Department operates out of the Char-Lan Recreation Centre in Williamstown.
Residents of South Glengarry have access to a wide variety of recreational programs and services. Some are provided by the Recreation Department and others by the private sector, but most programs are organized by volunteers.
For more information on our Recreation Department call:
Cathy McDonell, Recreation Coordinator at (613) 347-2411 ext. 21

Parks, Recreation and Facilities Update
It is still possible for you and your family to enjoy recreational activities in South Glengarry to promote a healthy, active, lifestyle. Below you will find information regarding recreation facilities that are currently open and closed in the Township of South Glengarry along with additional information regarding updates, safety precautions for recreational facilities as well as pickleball court etiquette. The Township of South Glengarry continues to collaborate and follow the direction of the Eastern Ontario Health Unit to promote social distancing measures and ensure the health and safety of our residents and staff.
Char-Lan Recreation Centre Update
The ice surface at the Township of South Glengarry Char-Lan Recreation Centre is now closed for the season. We want to thank all of our user groups for their continued patience and willingness to adjust and cooperate throughout an irregular season.
The Recreation Staff are currently working on Summer Programming and more information will be available soon. To ensure everyone's safety, measures in accordance to the Eastern Ontario Health Unit regulations have been put in place and will be respected. For more information on how to reserve the floor surface, please contact the Township of South Glengarry Recreation Department at 613-347-2411.
What You Need to Know Before Entering the Hall
In direct consultation with the Eastern Ontario Health Unit this is the protocol for Orange-Restrict Zone of COVID-19 for all Facilities within the Township of South Glengarry. We are all in this together and we want to keep everyone safe in our Recreation Facilities in South Glengarry.
Before Entering the Building – User Groups
Have your group meet outside the building 10 – 15 minutes before the designated program time.
Group Volunteer will need to go through the Active COVID-19 Screening Questions with each participant and a Traceability Contact Sheet for the group will need to be filled out by the program coordinator before entering the facility. This form will need to be inserted into the documentation binder, which will be provided at each facility.

Each User Group will be sent a blank template and the Group Volunteer will be responsible for making sure all present participants are identified.
While Inside the Hall – User Groups
Participants must wear their mask when entering or exiting the facility.

Hands must be sanitized when entering the building.
Once the participants are in their designated social distancing space, they may remove their mask. (EOHU recommends putting the mask in a Ziplock Bag).
If the participant leaves that designated area, they must wear their mask.
The door must be locked when all participants are in the building.
Exiting the Building – User Groups
Participants leaving the building must be wearing their mask
The Group Volunteer is responsible for participants leaving the facility at the scheduled time.

This will allow staff to properly sanitize the entire hall, storage areas, equipment and washrooms.
Additional Reminders
Participants wishing to bring outside food or beverages for their own personal consumption is permitted.
Food may not be served unless it is catered.
Washrooms will be available.
Entrance doors will remain locked and opened only as people enter or leave the facility.
Any individual who refuses to follow the prescribed guidelines will be asked to leave the building as they are jeopardizing the ability for the facility to stay open to the public.
Outdoor Township Rental Facilities
Sports fields are now open for drop-in use with measures to prevent the spread of COVID-19. Organized sports will not be permitted at this time, however when distancing measures are lifted these outdoor facilities will be ready for traditional rentals.
Parks and Playgrounds Open
As part of Orange-Restrict Zone of the Government of Ontario's Framework for public spaces, including parks and playgrounds. They are open, subject to ensuring the appropriate health and safety measures are in place.
While enjoying these park spaces, the following Public Health guidelines MUST be adhered to:
Practice 2-metre physical distancing
Do not congregate in large social groups at the park
Wash/sanitize hands frequently
Do not come to the park if you're feeling sick
Be respectful of other individuals and families using play structures and equipment.
USE PARK SPACE AT YOUR OWN RISK.
Please note that play structures and other park equipment are not disinfected.
Safety Precautions for Recreational Facilities
As recreational parks and facilities begin to re-open please remember…
Residents who are ill, who have COVID-19 symptoms, or who have been advised to self-isolate should not use any public spaces.
Residents must maintain a distance of 2 metres between yourself and other residents at all times.
Residents should only access recreational facilities with members of their own household.
Residents can wear a mask if maintaining 2 metres distance is a challenge.
Always wash hands before and after coming into contact with commonly touched surfaces like hand rails and gates. Residents should bring hand sanitizer with them.
Spectators are limited to 1 parent/guardian per participant under the age of 18, no children will be permitted to accompany the parent/guardian at this time.
User groups with participants aged 18 and older will not be permitted to have spectators.
Pickleball Court Etiquette
Personal Hygiene Responsibilities
• Wash or sanitize hands often before and after each game, for at least 20 seconds
• Cough and sneeze into tissue, and dispose safely
• Wear clean clothes to the playing area
• Avoid touching hands to face
• Use clip on towel or sweat bands to wipe face
• Wear protective eyewear
• Avoid physical contact with players (e.g. handshakes, fist pumps, elbow bumps)
• Avoid spitting on or near the courts
• Try to refrain from blowing your nose, coughing, sneezing while on or near the courts
• Wear disposable, non-permeable gloves and/or mask during play
• Disinfect soles of shoes before and after play (e.g. on mat soaked with solution)
• Bring your own water bottle and don't share
• Maintain physical distancing when not playing
• Avoid touching doors, gates, fences, benches with your hands
Equipment Hygiene
• The person who assembles or disassembles each net should wear gloves and wash his/her hands afterwards
• Disinfect balls before and after each game
• In game (or in practice) balls to be dedicated to a court
• If ball strays to another court, tap back with foot or paddle, not hands
• Dedicated ball per server (mark the balls)
• Disinfect paddle before and after each game or practice (with each change of balls)
• Do not share paddles or other equipment
• Do not allow paddle to paddle contact e.g. a bucket system
Youth Soccer Programs
Glen Walter Little Tikes Soccer Program
The Township of South Glengarry's Recreation Department is moving forward with the plan to open registration for a Little Tikes Soccer Program in Glen Walter. This program will include U4, U5 and U6 divisions, offered to children born with in the years 2015- 2017. Register online today as spots are limited. Volunteers are needed to help coach, so if you are interested in volunteering or have any questions about volunteering, please contact Cathy MacDonell at cmacdonell@southglengarry.com
We look forward to hearing from you!
Glen Walter registration Link: https://ca.apm.activecommunities.com/southglengarry/Activity_Search/1438
Char-Lan Minor Soccer
If you are interested in registering your child for the U8, U10, and U12 divisions, there are still some spots available with in the Char-Lan Minor Soccer Program.
Char-Lan Minor Soccer Link:
https://ca.apm.activecommunities.com/southglengarry/Activity_Search/1445
Due to the recent Provincial Announcement 'Roadmap to Reopen", sport leagues are not permitted until Step Two which will be approximately the week of July 5. The Township of South Glengarry is working with the EOHU to ensure we return to sport safely and follow all Provincial Orders and EOHU Guidelines and will be sure to keep you informed with updates regarding the program. All updated information will be posted on the Township of South Glengarry's social media sources.
Thank you for your patience and understanding.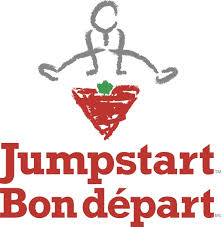 We support Jumpstart! To learn how to apply to the Jumpstart program CLICK HERE
Recreation Programs
Early ON Child and Family Centre
The Early ON Child and Family Centre brought to us by GIAG, runs every Tuesday morning from 10:00am-12:00pm and is open to children aged from newborn to 6 years old and their caregivers.
Come enjoy a natural environment while you and your child explore your creativity with art, music and lots of fun! The GIAG staff members are always there to help with any topics or questions you might have, including; temper tantrums, potty training, and getting your child ready for school.
For more information on the Early ON Child and Family Centre and to Pre-Register, please contact:Laurie Legue at 613-930-9211 ext 221 or Melanie Lebrun at mlebrun@giag.ca
Youth Recreation
MARTIAL ARTS
Location: Char-Lan Recreation Centre – Tartan Hall

Tuesdays and Thursdays 6:30pm – 8:00pm until June 29th, 2021
For more information contact:
Sensei Dan Desjardins at 613-551-1400
Senior Recreation
BALANCE FOR LIFE
Locations: Char-Lan Recreation Centre - Tartan Hall/Lan-Char Centre (Lancaster)
Description: Group exercise class for older adults to help build strength and balance
All classes are led my certified instructors
Contact Seaway Valley Community Health Centre at 613-930-4892
GOODTIMERS PROGRAMS
Location: Martintown Community Centre
• Pickleball 55+
Contact Murray Moore at 613-528-4663
Location: Char-Lan Recreation Centre
• Rug Hooking 55+
Contact Denise Body 613-551-5855
Upcoming Events
*Please Check Back Soon*
Program Registration
CHAR-LAN MINOR SOCCER REGISTRATION IS STILL OPEN!
Divisions: U4-U5-U6-U8-U10-U12
Open to children born between 2009 - 2017
Season: June 2nd - July 22nd, 2021
Wednesday & Thursday Nights
U4 - Thursdays from 6:00pm - 6:45pm
U5 - Thursdays from 6:00pm - 6:45pm
U6 - Wednesdays from 6:00pm - 6:45pm
U8 - Wednesdays from 6:00pm - 7:00pm OR Thursdays from 7:15pm - 8:15pm
U10 - Wednesdays from 5:30pm - 6:30pm
U12 - Wednesdays from 7:00pm - 8:00pm
Register On-Line From April 13th - May 6th, 2021
Cost $40.00 per child
We request credit card payment upon registration as the Main Township Office and Recreation Office are currently closed to the public due to COVID-19 restrictions
Spots are Limited - No Late Registrations Will Be Accepted
*Please be advised that due to the restrictions placed on team/league play any special requests may not be accommodated this season*
CLICK HERE to register!
Required Equipment
Shin Pads & Cleats
Provided Equipment
Soccer Socks & Jersey
Volunteer Opportunities
WE ARE CURRENTLY WORKING ON GETTING SUMMER PROGRAMS UP AND RUNNING IN OUR COMMUNITIES, HOWEVER WE NEED YOUR HELP.
We are looking for Volunteer Coaches, Team Representatives and League Coordinators for the following programs: Glen Walter Soccer and Ball Hockey at the Char-Lan Recreation Centre.
If you are interested in volunteering for either of these programs or have any questions about volunteering please contact our Recreation Coordinator Cathy MacDonell.